Sometimes I still can't believe what I saw. This 19-year-old kid, crude, poorly educated, only lightly brushed by the social veneer we call civilization, gradually transformed into the idol of American youth and the symbol of baseball the world over – a man loved by more people and with an intensity of feeling that perhaps has never been equaled before or since.
Harry Hooper (Babe Ruth teammate)
The little league baseball field at Celoron Park in southwestern New York, sits hard by the Chadakoin River that drains Chautauqua Lake on its southern end. Hit a baseball far enough into right field there and it could theoretically spit out in the Gulf of Mexico; Chadakoin to Cassadaga Creek, to Conewango Creek, to the Allegheny, the Ohio, the mighty Mississippi, through New Orleans emptying into the Gulf of Mexico, some eleven-hundred miles downstream. The field is built for little league players, shortened base paths and pitcher's mound. It's also, as legend has it, where Babe Ruth once stood and hit a baseball into right field, into the Chadakoin River, some five hundred feet from home plate.
Except that isn't exactly the place. The Babe belted the celebrated ball, but not quite where kids hit baseballs today.
Jump in your car, drive to the village of Celoron. Take the low roads, close to the water. From the west, you'll trace the southern basin of Chautauqua Lake along Lakeside Drive, rounding onto Jackson Avenue. Keep your eyes and imagination open, lay all this land bare, take out the lakefront houses on Longview Road, take out Ellicott Shore Apartments. Take out the streets, take out the trees. Turn those acres into a vast island of green grass and potential. Now put up a grandstand and a backstop, place bases ninety feet apart in a square, a mound 60 feet 6 inches from the plate. Here you have Celoron baseball park circa 1921, when The Babe came to town.
When travel was more cumbersome than it is today, Jamestown, New York emerged as a convenient stop between Cleveland, Erie and Buffalo. Celoron, close by with recreational water access, was naturally attractive as a place to build an entertainment empire. Celoron Park opened in 1895 and featured, at various times four major hotels and fifteen smaller rooming houses, a bathhouse three stories tall with three toboggan slides, a barber shop, a hundred and fifty dressing rooms, a bowling alley, billiards rooms, shooting gallery, ice-cream parlor, an auditorium with Turkish spires five stories high that seated almost nine-thousand. In the winter the floors were flooded for ice skating. The Celoron Theater extended over the water and hosted dances, stage performances and vaudeville acts. The Phoenix Wheel, the world's largest Ferris wheel, was ten stories tall with twelve cages, able to hold 168 thrilled passengers. The wooden Greyhound Roller Coaster had three loops and six-thousand lights.
George Maltby is the Celoron Park supervisor in 1921. He's small, maybe 5'5", wispy and fidgety, in charge of programming. He's known locally for his bright attire, belted high-waisted jacket with wide lapels, narrow trousers, bright white suspenders, herringbone fedora, and deep red sideburns and mustache. He is the man most responsible for the headline in the Jamestown Morning Post October, 18th; Babe Ruth To Play Here, and below that, Home Run King, Bob Meusel And Piercy In Exhibition Game At Celoron Tuesday. It is a big undertaking to bring an attraction of this size and importance to Celoron, but Mr. Maltby, after posting a big guarantee decided to take a chance and ask in return that all red-blooded fans turn out and enable him to break even at the deal. It is a chance that many will never have again and if the fans show their spirit the Celoron Park will be filled to capacity. Oh the joy of it all, seeing Babe Ruth clouting a few of those dear $2.50 balls into the blue waters of Chautauqua Lake.
When World War I ended in November 1918, a series of seemingly innocuous and unrelated events intersected in American culture. The economic windfall of the just-completed war created a prosperous middle class. With newfound disposable income Americans went looking for entertainment. Baseball became America's pastime, a game of slap and run, mushy baseballs and small gloves. In 1919 Spalding sporting goods came out with a new, more tightly wound baseball made from springy Australian wool, the first "live" ball to hit the game. In 1920 the Boston Red Sox traded a moderately successful pitcher named George Herman (Babe) Ruth to the New York Yankees. There he started playing daily in the outfield, using a swing he built as a pitcher, when he didn't have to make a living slapping a dead ball into outfield holes. How fickle is history when a sporting goods company can change the course of a national pastime by eschewing domestic sheep and importing "springy" wool. Ruth hit 29, 54, and 59 home runs in the years 1919-1921.
To understand him you had to understand this: he wasn't human.
Joe Dugan (Babe Ruth teammate)
He's 6'2" and 220 pounds, but you'd swear he's bigger. Look at his paws, those meaty oven mitts. You can see 714 home runs there, wielding a 54-ounce bat (you'd be hard pressed to find a major league player today with a bat over 36 ounces). You get real solid timber in the heavier bats, says The Babe. Larger than life is a term bandied around a lot. In Babe Ruth's case it's true. He looms over everything. Pictures don't do him justice. He is, at least when he plays in Celoron, a physical specimen. His head is enormous. In 1921 he's twenty-six years old, seven years into his career. He'll play for another fourteen years, and live for another thirteen after that. He's not unhandsome, but there is a roughness around his edges, a life hard-lived even at this age. He'll be the genesis for the Baseball Hall of Fame, one of the first five inductees, and he'll have at least two records that will last into the next century, career slugging percentage .690 and OPS 1.164.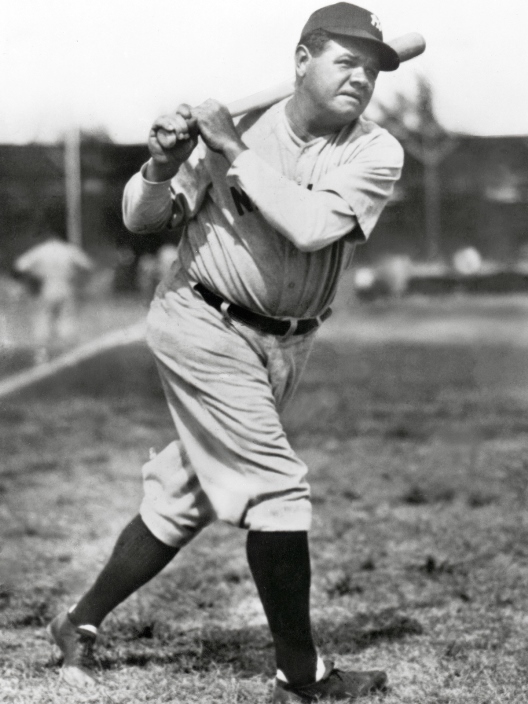 There should be no list of the best baseball players in history that does not start (and perhaps end) with the name George Herman Ruth. He invented today's version of baseball, saved baseball, was baseball. The game, popular at the turn of that century, exploded after he started launching baseballs over fences. Want to know why Henry Aaron had a candy bar named after him? Babe Ruth. Want to know why Major League Baseball made over $10 billion in 2019? Babe Ruth. Want to know why they turned a blind eye when Barry Bonds guzzled steroids so he could hit 762 home runs? Babe Ruth. Want to know why Alex Rodriguez made more money that most third world nations ($450 million)? Babe Ruth. Without Babe Ruth and that dynamic transition from dead-ball era to home run derby, in a United States where attention span seems to diminish daily, baseball might have trended dangerously toward soccer, slow, methodical, mind numbing.
October 18th is three days after the 1921 World Series. The New York Giants beat the Yankees in the last best-of-nine World Series ever played. It's the first broadcast via radio, and the only series with every game played at the same site, the Polo Grounds in New York. Nobody in Celoron that day knows it yet, but that series will be a generational shift between the dead-ball "inside game" Giants, and the power "outside game" of the Yankees featuring Babe Ruth and his season record 59 home runs and 171 RBI.
Celoron that day is packed with hotels, food stands, men in double-breasted vests and single-breasted jackets, boys in knickers and flat hats, women in flapper dresses, drape hats and bobbed hair. Horses, carriages and Model T's clog the street. A ten-story Ferris wheel towers over the proceedings, patrons with vintage folding Kodak cameras riding to the top and recording the spectacle, 1920's version of a drone fly-by. There is a boathouse on the lake and there is a midway concourse. The bustle is electric, dampened only by a light rain, muffling voices and footprints. Steamboats unload more Roaring 20's characters at a huge public dock. The game is anti-climactic compared to the spectacle and the memories. The big man does indeed hit a ball into the lake, but it's during batting practice. A young boy retrieves the ball, keeping it from the thousand-mile journey throughout a United States owned by the most famous baseball player ever.
Celoron is returned to its current state, roads lightly traveled, simple commerce and functional government buildings replace the epic bounty of Celoron Park. But the lake and the Chadakoin are the same as that day in 1921, steadfast shores, the current flow and shape are fixed. The waters whisper of great days past, confident in its pedigree. If it could talk it might tell a story about the days when Celoron Park ruled the world of entertainment, and that day in October almost a century ago, when the Sultan of Swat stormed its shores.
He wasn't a baseball player. He was a worldwide celebrity, an international star, the likes of which baseball has never seen since.
Ernie Harwell (broadcaster)